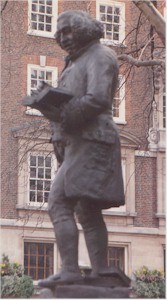 The statue of Samuel Johnson on the left stands outside St. Clement Danes Church in London, near Johnson's home in Gough Square. This was one of Johnson's favorite churches. I've put it here for the sake of those who don't want to watch it download on the front page. (Hope you don't mind.)

(The statue is by Percy Hetherington Fitzgerald.)

There are more pictures to see at The National Portrait Gallery, which I have not shown here out of respect for their copyrights.